Ingredients
1-1⁄2 cups confectioners' sugar
3 tablespoons reduced-fat (Neufchâtel) cream cheese from a block
3 tablespoons light butter from a stick, softened
1⁄2 tablespoon fat-free milk
1 teaspoon vanilla extract
Instructions
In a mixing bowl, combine the sugar, cream cheese, butter, milk, and vanilla. Mix on low speed with an electric mixer fitted with beaters or stir with a spoon for about 1 minute, or until combined. If using a mixer, increase the speed to high. Beat or stir vigorously for about 30 seconds or until smooth. Allow the frosting to set for at least 10 minutes. Place in an airtight plastic container. Refrigerate for up to 3 days. Just before using, stir well with a spoon.
MAKES ABOUT 3⁄4 CUP, ENOUGH FOR 8 RESTAURANT-SIZE ROLLS OR 15 STANDARD-SIZE ROLLS
Each serving has: 119 calories, 1 g protein, 23 g carbohydrates, 3 g fat, 2 g sat. fat, trace fiber
Reprinted from Fast Food Fix by Devin Alexander (c) 2006 by Devin Alexander. Permission granted by Rodale, Inc., Emmaus, PA 18098. Available wherever books are sold or directly from the publisher by calling (800) 848-4735.
www.devinalexander.com
Photo Credit: Lisa Cohen
By Devin Alexander
Summary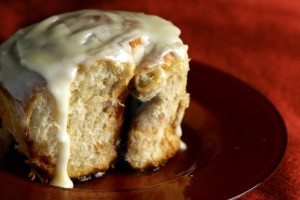 Recipe Name
Author Name
Published On