New Favorite Meatballs
A lot of people opt for turkey or chicken meatballs and sausage, thinking that they're much leaner than beef. If you buy them pre-prepared, that does tend to be the case. But even the chicken and turkey meatballs and sausage you find at the grocery store or in restaurants derive at least 50% of their calories from fat and contain an insane amount of sodium. Yikes, right? That's why I make my own—they taste better and I can use real beef or real pork when I want. And if you and your family don't truly enjoy these meatballs more than the packaged chicken or turkey ones, I'll be shocked!
Ingredients
Olive oil spray
2 egg whites
1/2 cup quick-cooking oats
1/4 cup fat-free milk
1/2 cup finely chopped fresh parsley
1 tablespoon dried minced onion
1/2 teaspoon dried oregano
1/2 teaspoon garlic powder
1/4 teaspoon salt
1/8 teaspoon crushed red pepper flakes
1 pound 96% lean ground beef
Instructions
Preheat the oven to 400°F. Lightly coat a large nonstick baking sheet with the olive oil spray.
In a medium bowl, using a fork, mix together the egg whites, oats, and milk until well combined. Add the parsley, onion, oregano, garlic powder, salt, and crushed red pepper flakes and mix until combined. Mix in the beef until well combined.
Make 32 uniform meatballs, each about 1-1/4″ diameter (use a cookie scoop or 2 tablespoons for ease). Roll the balls with your hands and arrange, not touching, on the prepared baking sheet. Bake for 7 to 10 minutes, or until no longer pink inside.
Makes 4 (8-meatball) servings
Per serving: 194 calories, 26 g protein, 10 g carbohydrates, 5 g fat (2 g saturated), 60 mg cholesterol, 2 g fiber, 252 mg sodium
Reprinted from The Biggest Loser Family Cookbook by Chef Devin Alexander and the Biggest Loser Experts and Cast (c) 2009 by Universal Studios Licensing LLLP. The Biggest Loser (TM)and NBC Studios, Inc., and Reveille LLC. Permission granted by Rodale, Inc., Emmaus, PA 18098. Available wherever books are sold or directly from the publisher by calling (800) 848-4735.
www.devinalexander.com
Photo Credit: Mitch Mandel
By Devin Alexander
Summary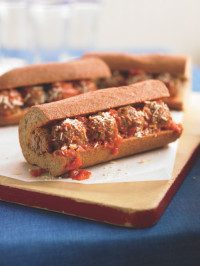 Recipe Name
Author Name
Published On