MAIN EVENT MARINARA SAUCE
Canned tomatoes will always vary slightly in taste depending on where they were packed, what time of year they were harvested, etc. So sometimes the same recipe for sauce might require a touch of salt, while another may require a hint of sweetener. Here, we added very little of each and loved the results based on our canned tomatoes. If you need to, feel free to add another hint of salt or honey. Just be sure not to overdo it.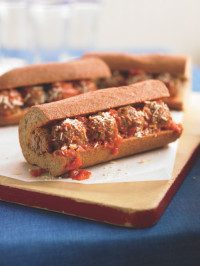 Ingredients
Olive oil spray
1 cup minced yellow or white onion
2 tablespoons freshly minced garlic
1 (28-ounce) can crushed tomatoes
1/4 cup water
2 tablespoons no-salt-added tomato paste
2 teaspoons honey 1 tablespoon dried oregano
2 teaspoons dried basil
1/2 teaspoon crushed red pepper flakes
Salt, to taste (optional)
Instructions
1.Spray a medium, non-stick sauce pan with olive oil spray and place it over medium heat. Add the onion and garlic and cook until they start to become tender (they should not brown), approximately 4-6 minutes. Turn heat to low and using a wooden spoon, stir in the crushed tomatoes, water, tomato paste, honey, oregano, basil and pepper flakes until well combined. Cover the pan and continue cooking, stirring occasionally, for at least 1 hour. Season with salt, if needed.
Makes 7 (1/2-cup) servings; about 31/2 cups sauce
Per serving: 63 calories, 3 g protein, 15 g carbohydrates, less than 1 g fat (trace saturated), 0 mg cholesterol, 3 g fiber, 156 mg sodium
Summary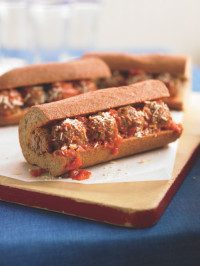 Recipe Name
Main Event Marinara Sauce
Author Name
Published On