Banana Coconut Mini Muffins
I love making mini-muffins because so often I find myself needing just a small treat to satisfy a sweet craving. And because I pride myself on finishing everything I start . . . I joke about that, but I definitely get more pleasure from eating a whole mini-muffin than I do eating half or a third of a standard-sized one. Same thing with bags of snacks. When I buy cereals or baked chips, I portion them and store them in resealable bags. Then, I put the individual bags back into the bag they came in. By putting the little bags into the bigger bag, I visit the appealing wrapper that, in part, lured me in to begin with. But, even more important, often the bags that chips or cereals come in are designed to keep foods fresh more effectively than resealables. Thus I don't set myself up for potentially stale snacks. When it's time for snacking, I can grab a bag (or sometimes even two) and finish the whole thing(s), just like I can finish these muffins, since they're so small. At only about 50 calories each, one or two of them make the perfect ending to a high-protein, low-fat breakfast. And I can finish every last bite, guilt-free!
Ingredients
Butter-flavored cooking
1 cup whole-grain oat flour
1/2 teaspoons baking soda
1/2 teaspoon salt
1/4 teaspoon baking powder
1/2 cup mashed very ripe banana
1/2 cup brown sugar (unpacked)
1 large egg white
1/3 cup fat-free, artificially sweetened vanilla or banana yogurt
1/2 cup plus 2 tablespoons sweetened flake coconut
Instructions
Preheat the oven to 350°F. Mist 18 nonstick mini-muffin cups with spray. Combine the flour, baking soda, salt, and baking powder in a small bowl. Stir with a fork until combined. Set aside.
Combine the banana, sugar, egg white, and yogurt in a large mixing bowl. Use a sturdy whisk or a spatula to mix until thoroughly blended. Add the flour mixture. Whisk until no flour is visible. Stir in 1/2 cup coconut until evenly distributed in the batter. Then spoon the batter evenly among the prepared muffin cups, filling them three-quarters full. Sprinkle the remaining coconut evenly over the tops.
Bake for 12 to 15 minutes, or until a tooth¬pick inserted in the center comes out dry (a few crumbs are okay).
Cool in the pan on a rack for 10 minutes. Remove the muffins from the pan to the rack and cool completely. Serve warm or at room temperature. Refrigerate any leftovers in an airtight container for up to 3 days.
Makes 9 servings.
106 calories, 2 g protein, 20 g carbohydrates, 2 g fat, 1 g saturated fat, trace cholesterol, 2 g fiber, 293 mg sodium
Summary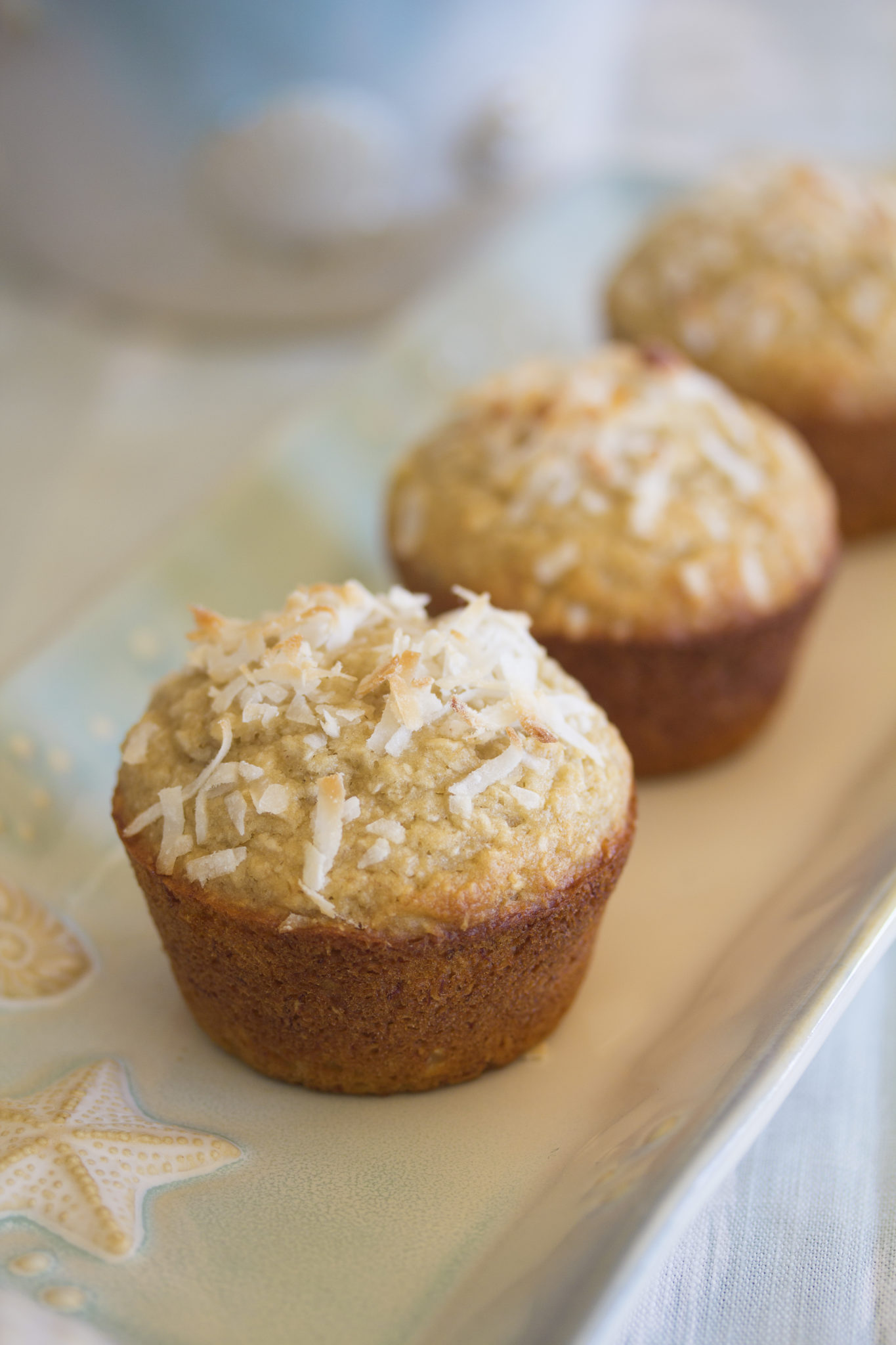 Recipe Name
Banana Coconut Mini Muffins
Author Name
Published On