Blueberry Margaritas
Though I've maintained a huge weight loss over the years, I confess that I still balk at giving up the occasional margarita. I know that most of the ones served at restaurants are full of sugar and calories, so I make my own lower-cal version at home. And because blueberries are the "star," you even get some fiber and antioxidant punch! Before you start making the drinks, it's important to have all the ingredients ready. You don't want the blueberries and ice to melt while you're squeezing lemons and limes. If desired, you can rim your serving glass with lime juice and salt.
Ingredients
3 cups frozen blueberries
1/2 cup gold or silver tequila
1/2 cup freshly squeezed lemon juice
1/4 cup freshly squeezed lime juice
1/4 cup light agave nectar
24 ice cubes
4 lime wedges for garnish (optional)
Instructions
Add the blueberries, tequila, lemon and lime juices, agave, and ice to a blender with ice-crushing ability. Blend on high until the mixture is smooth. Divide the margaritas among four 12-ounce glasses and serve immediately.
Makes 4 servings
Per serving: 188 calories, < 1 g protein, 33 g carbohydrates (27 g sugar), < 1 g fat, 0 g saturated fat, 0 mg cholesterol, 3 g fiber, < 1 g sodium
Summary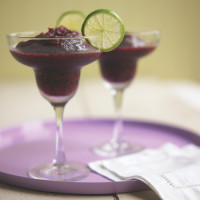 Recipe Name
Author Name
Published On