Chinese Pepper Steak
In addition to loving this dish served hot from the stove, it's become one of my favorites because it makes such excellent leftovers. Toss it on some rice for a complete meal then save some to reheat in the microwave at work the next day, and your co-workers are sure to be jealous. Please note: the meat is cooked in batches so it browns properly and ends up being tender.
Ingredients
1-1/2 pounds trimmed top round steak cut into
1/2 inch thick strips
1 teaspoon black pepper
1/2 teaspoon garlic powder
1/4 teaspoon salt
3-1/2 teaspoons extra virgin olive oil divided
1-1/2 1/2 inch-wide 2-inch-long sweet onion strips
1-1/4 cups 1/2-inch-wide, 2-inch-long green bell pepper strips (about 1 large pepper)
1 teaspoon minced fresh garlic
2 cups canned crushed tomatoes
1-1/2 tablespoons low-sodium soy sauce
Instructions
Place the steak in a medium bowl. Add the black pepper, garlic powder, and salt. Toss to season the steak evenly. Let stand for 10 minutes. Place a large nonstick saucepan over high heat. When the pan is hot, put in 1 teaspoon olive oil. Add half of the steak and brown it on all sides, 1 to 2 minutes per side. Remove from the pan. Add another teaspoon of olive oil, then the remaining steak. Brown that on all sides. Remove from the pan. Turn the heat to medium, and then add the remaining 1-1/2 teaspoons olive oil, onion, bell pepper, and garlic. Cook, stirring occasionally, until just tender, about 5 minutes. Return the steak to the pan, and then stir in the tomatoes and soy sauce. Turn the heat back to high. When the liquid reaches a boil, cover the pan and turn the heat to low. Simmer, stirring occasionally, until the meat is tender enough to fall apart with a fork, about 1-1/2 hours. Serve immediately, or refrigerate in an airtight container for up to 3 days.
MAKES ABOUT 6 CUPS; 6 SERVINGS
Each 2-Decadent-Disk serving (1 cup) has: 192 calories, 26 g protein, 12 g carbohydrates, 6 g fat, 2 g saturated fat, 50 mg cholesterol, 3 g fiber, 480 mg sodium
Recipe taken from Devin Alexander's THE MOST DECADENT DIET EVER!
Copyright © 2008 by Devin Alexander published by Broadway Books, a division of Random House Inc.
www.devinalexander.com
Photo Credit: Theresa Raffetto
Summary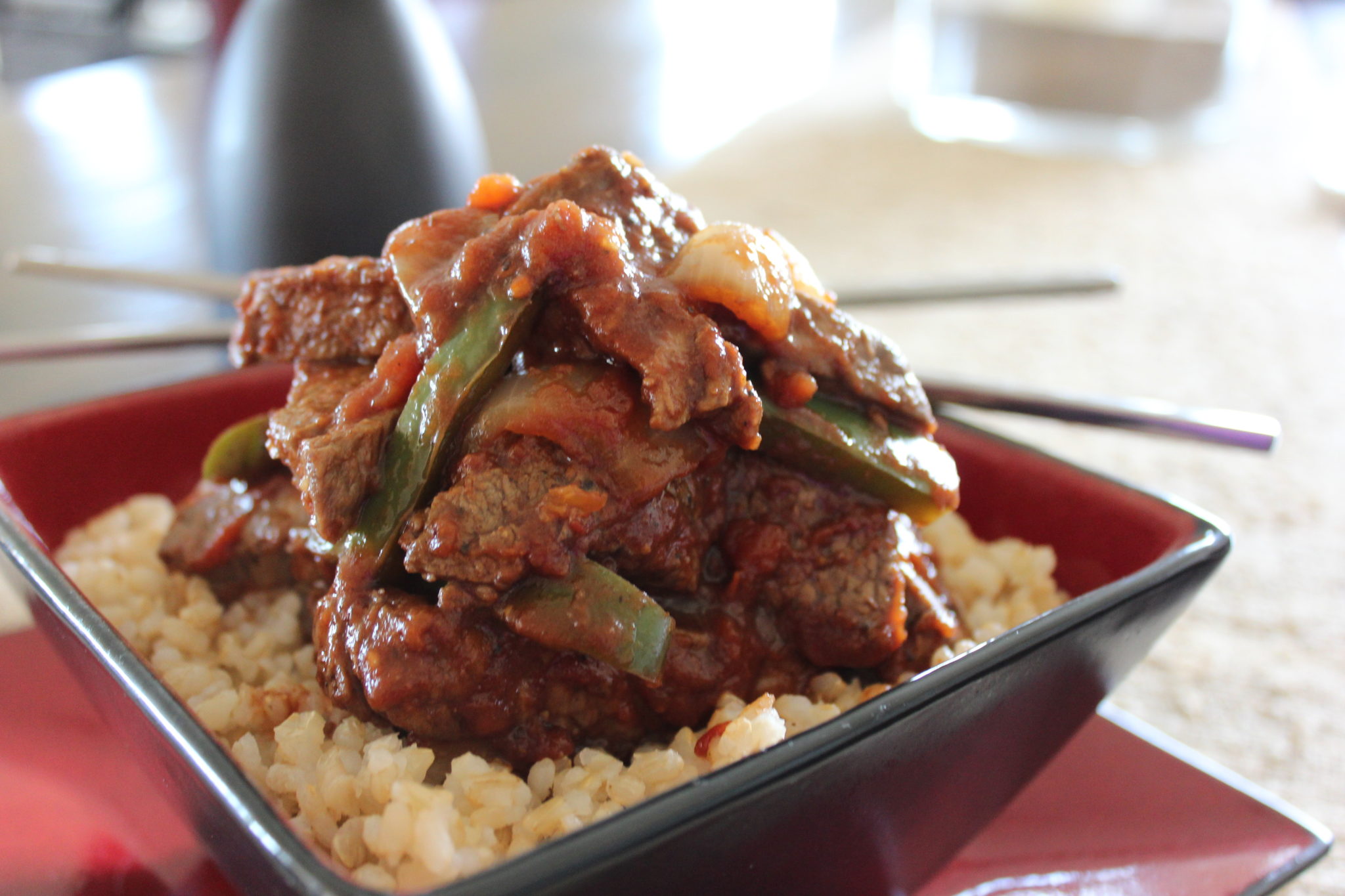 Recipe Name
Author Name
Published On