Cole Slaw with Orange Cilantro Vinaigrette
I've always been such a fan of coleslaw that I've made many varieties. With this recipe I wanted to create a new, more exotic one. I tried various ingredients before I struck upon the combo with orange and cilantro. I personally thought it could use even a bit more cilantro, but my test kitchen team overruled me, saying that the 1⁄3 cup is the perfect amount. If you're like me, feel free to add a touch more. Either way, it's a great, refreshing way to enjoy coleslaw with a fraction of the fat and calories of traditional versions.
Ingredients
1/4 cup fat-free plain yogurt
1/4 cup light mayonnaise
1/4 cup 100% orange juice preferably freshly squeezed or "not from concentrate"
3 tablespoons white vinegar
1-1/2 teaspoons honey
7 cups shredded green cabbage (about 10 ounces)
1 cup shredded carrots
1/2 cup slivered red onion
1/3 cup fresh cilantro, chopped
salt to taste
ground black pepper to taste
Instructions
In a large, resealable plastic container, whisk together the yogurt, mayonnaise, juice, vinegar, and honey. Add the cabbage, carrots, onion, and cilantro and stir until well combined. Season with saltand pepper. Cover and refrigerate for at least 3 hours or up to 2 days
Makes 6 (generous 3⁄4-cup) servings.
Per serving: 83 calories, 2 g protein, 13 g carbohydrates, 3 g fat (trace saturated), 3 mg cholesterol, 3 g fiber, 118 mg sodiumReprinted from The Biggest Loser Family Cookbook by Chef Devin Alexander and the Biggest Loser Experts and Cast (c) 2009 by Universal Studios Licensing LLLP. The Biggest Loser (TM)and NBC Studios, Inc., and Reveille LLC. Permission granted by Rodale, Inc., Emmaus, PA 18098. Available wherever books are sold or directly from the publisher by calling (800) 848-4735. www.devinalexander.com
Summary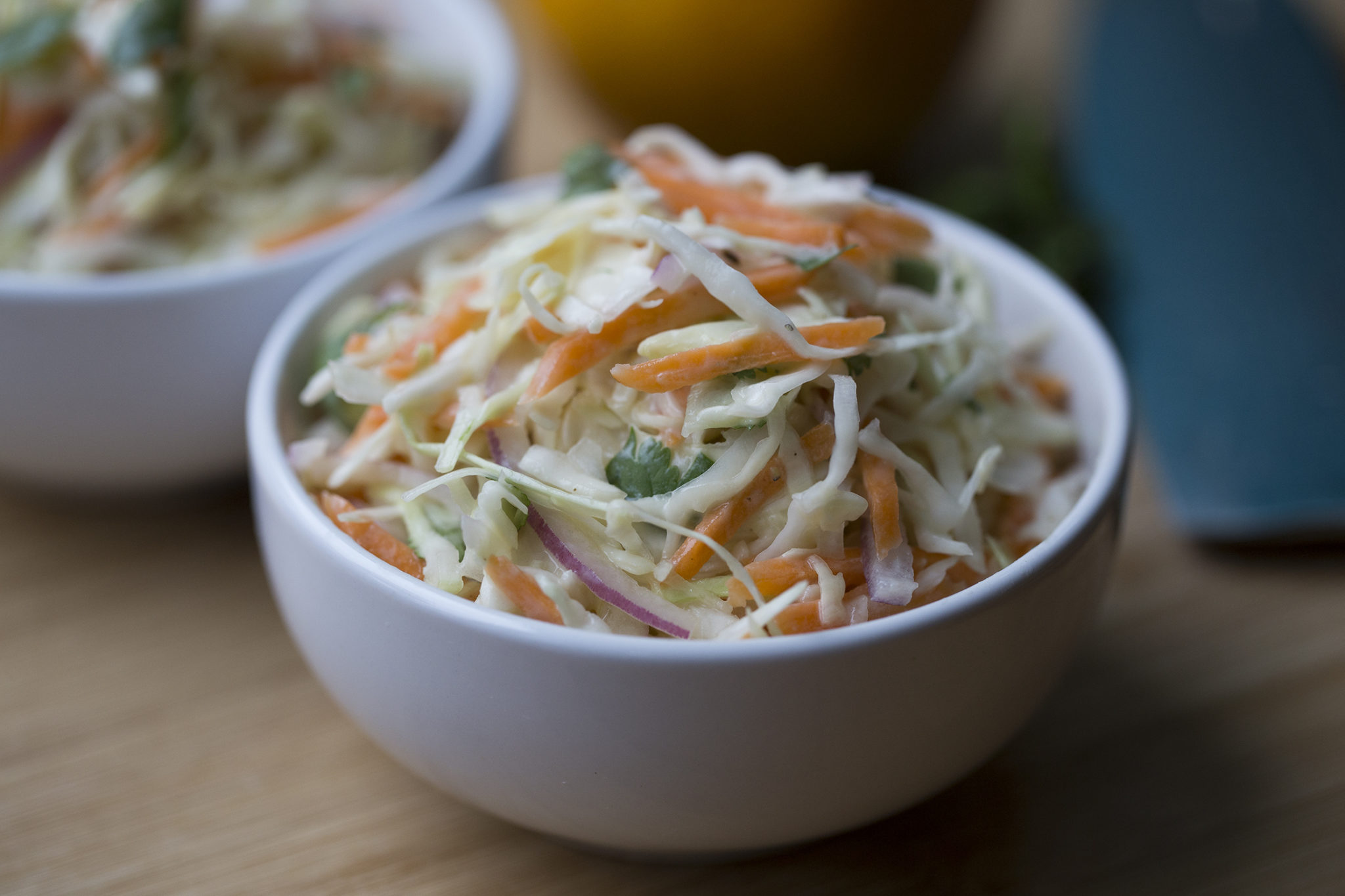 Recipe Name
Cole Slaw with Orange Cilantro Vinaigrette
Author Name
Published On