Ingredients
4 ounces drained Canned lump crab meat
2 tablespoons finely chopped whole green onion
1 tablespoon light mayonnaise preferably natural
2 teaspoons lemon zest
1 teaspoon finely chopped fresno pepper
1 1/2 tablespoons whole wheat panko bread crumbs
12 extra large shrimp preferably wild caught
olive oil spray propellant free
Instructions
Preheat the oven to 475°F. Line a small baking sheet with nonstick foil.
Mix the crab, green onions, mayonnaise, lemon zest, and peppers in small bowl until they are well combined.
Spread the bread crumbs on small plate and set aside.
To butterfly the shrimp: Peel all but the tail and last joint of the shell o the shrimp. On a cutting board, place a shrimp so that the head end and tail are touching the cutting board and the center arches toward the ceiling. Insert a knife into the shrimp near the head, just past the remaining shell, and cut down the center of the shrimp's back to the tail, cutting just deep enough to flatten the shrimp (make sure not to cut all the way through). Run the shrimp under cold water to clean it. Dry it well with a paper towels. Repeat the procedure with the remaining shrimp and place them side by side, not touching, on the prepared baking sheet.
Divide the crab mixture evenly among the shrimp, about 1/2 tablespoon per shrimp, forming into a tight mound on top of the butterflied portion of each shrimp.
Carefully dip each shrimp, gently turning it upside down, into the bread crumbs to lightly coat the crab (not the whole shrimp, just the portion with the crab). Return shrimp to the baking sheet and make sure the crab mound isn't flattened (if it is, reshape it slightly to look like a mound). Sprinkle any remaining bread crumbs evenly over the tops. Mist the tops lightly with spray.
Bake the shrimp 7–10 minutes or until they are no longer translucent throughout. Enjoy immediately.
80 calories, 1.5 g fat, 0.3 g saturated fat, 0 g trans fat, 110 mg cholesterol, 220 mg sodium,
260 mg potassium, 3 g carbohydrates, 0 g fiber, 0 g sugars, 14 g protein, 190 mg phosphorus
Summary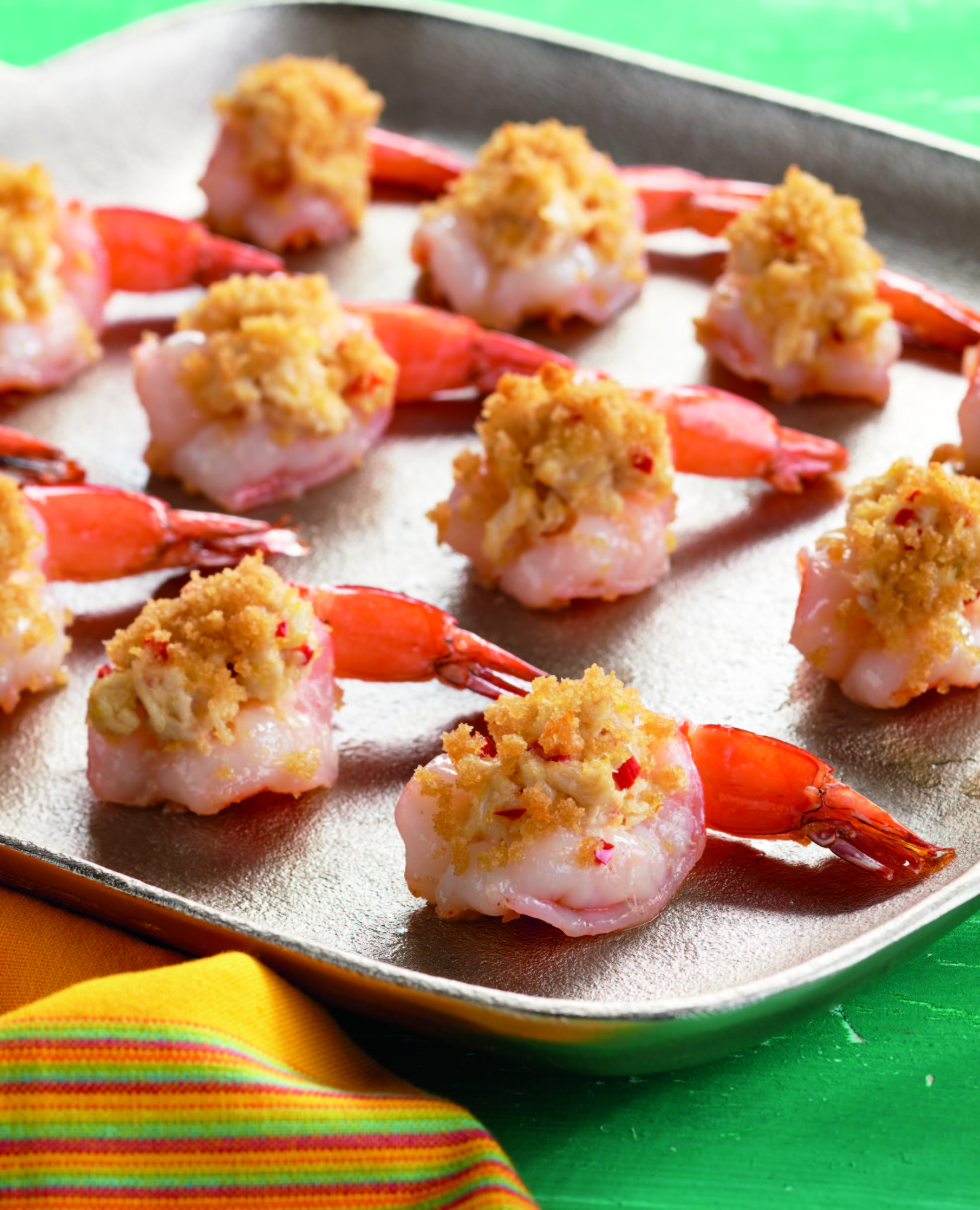 Recipe Name
Author Name
Published On