Expect More Coconut Macaroons
If you're a huge fan of coconut, you're bound to love these macaroons. They're a bit less gooey and butter than the traditional ones, but that's actually good because it allows true coconut lovers to enjoy the coconut. Typical macaroons of this size have about 120 calories and 4-6 g of fat, each. These have only 86 calories and 3 g of fat for two!
Ingredients
Butter-flavored cooking
2 large egg whites
2 tablespoons coconut sugar
2 tablespoons light agave nectar
2/3 cup finely shredded, reduced-fat, unsweetened coconut (I used "Let's Do…Organic" 40% less fat coconut)
Instructions
Preheat oven to 300 degrees. Line a medium baking sheet with parchment paper and lightly mist it with spray.
Whisk together the egg whites, coconut sugar and agave until the sugar is completely dissolved. Stir in the coconut until well combined. Spoon the batter in mounds (about 1 level tablespoon per macaroon) onto the prepared pan, so they do not touch, to make 10 macaroons. Bake them for 23-25 minutes, or until the macaroons are lightly golden brown. Remove the pan to a wire cooling rack and let them cool about 5 minutes. Transfer them to the cooling rack and allow to cool completely. Serve immediately or store them in a re-sealable plastic container for up to 5 days.
Makes 5 servings.
Each (2 cookie) serving has: 86 calories, 2 g protein, 13 g carbohydrates (10 g sugar), 3 g fat, 3 g saturated fat, 0 mg cholesterol, 1 g fiber, 33 mg sodium
Summary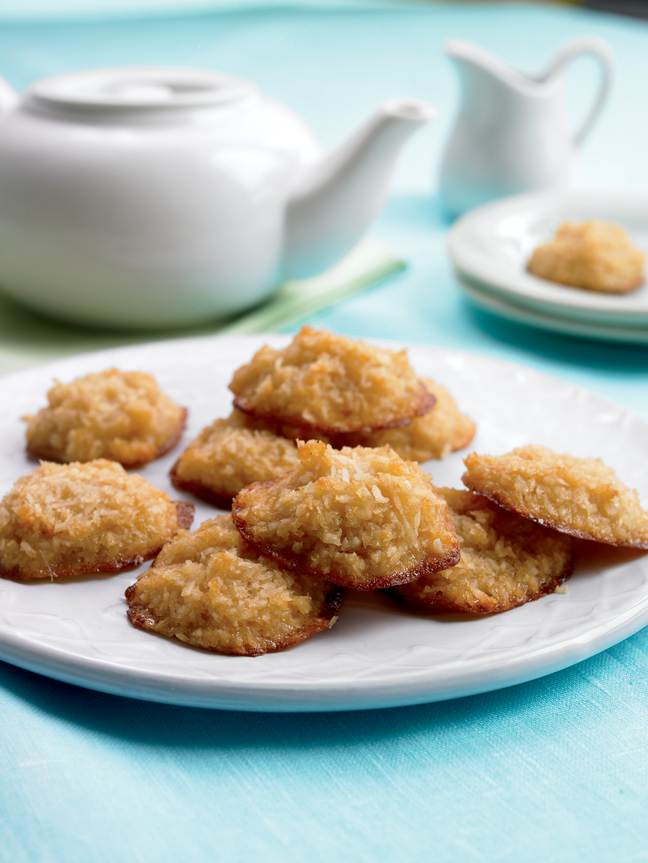 Recipe Name
Expect More Coconut Macaroons
Author Name
Published On