Madeira Wine Gravy
When making turkey it's great to use drippings in place of some of the broth here (you're not likely to have a full 11/2 cups). Not only will it add a richness, you'll save even more sodium. But whether it's made with drippings or broth, you're bound to want to use this gravy on mashed potatoes, on stuffing, and even with biscuits. With only 31 calories and 1 gram of fat for a 2-tablespoon serving, you really can't go wrong.
Ingredients
2 tbsp unbleached all-purpose flour
1 1/2 cups turkey drippings or low-fat, lower-sodium turkey stock or chicken broth
1/2 cup Madeira wine
2 tbsp light butter (stick, not tub)
Instructions
Spoon the flour into a medium mixing bowl. Whisk in enough broth to form a paste. Continue whisking in the broth until well combined and no lumps remain. Set aside.
Place a medium saucepan over medium-high heat. Put in the Madeira and the broth mixture.
Bring the mixture to a boil and reduce the heat to medium. Whisk the mixture occasionally until it thickens to the consistency of gravy, 4 to 6 minutes. Whisk in the butter until melted and well combined.
Makes about 11/4 cups; 11 servings
Each 2-tablespoon serving has: 31 calories, <1 g protein, 3 g carbohydrates, 1 g fat, 1 g saturated fat, 3 mg cholesterol, <1 g fiber, 80 mg sodium
Recipe taken from Devin Alexander's THE MOST DECADENT DIET EVER! Copyright © 2008 by Devin Alexander published by Broadway Books, a division of Random House Inc.
Summary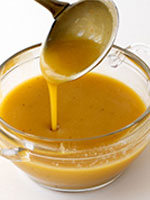 Recipe Name
Author Name
Published On