Naked Apple Tart
In culinary school, I used to make a tart very similar to this one, only it had a crust with enough butter to require a week of butt-kicking with Jillian! Now, I enjoy it naked—without a crust, that is. I prefer the look of this "tart" when it's baked in a round or oval dish. You can use a similar-size square or rectangle dish, if necessary. Note that the tart cooks for quite a while, allowing the apples to transform into layers of soft, sweet deliciousness. The top of the tart will start to look burnt, but don't worry, it's not! It's just the result of juice and cinnamon caramelizing onto the apples—oh so sweet!
Ingredients
butter-flavored cooking spray
2 large crisp apples (such as Golden delicious or Granny Smith), peeled
3/4 cup 100% apple juice (not from concentrate)
2 tablespoons coconut sugar
2 teaspoons unsalted butter melted
1 teaspoon gound cinnamon
Instructions
Preheat the oven to 425°F. Lightly mist a 10″ ceramic or glass tart dish with cooking spray. Cut the apples in half lengthwise and remove the cores. Slice each half lengthwise into very thin slices. Starting from the outer edges of the dish, arrange the apple slices, laying them horizontally, in tightly overlapping circles in the bottom of the dish, until all of the apple slices are used (they will make a rose or flower blossom pattern). In a small mixing bowl, whisk together the apple juice, sugar, butter, and cinnamon until well combined (the sugar and cinnamon will not dissolve completely). Pour half of the apple juice mixture evenly over the apples. Reserve the remaining half. Bake for 30 minutes. Pour the reserved mixture evenly over the apples. Bake for 25 to 30 minutes longer, or until the apples are very tender and the glaze has caramelized on the top and around the edges of the tart (it should look almost burnt—dark brown, but not blackened). Cool for 5 minutes, then divide among 4 serving plates or dishes and serve.
Makes 4 servings.
Per serving: 120 calories, trace protein, 27 g carbohydrates (21 g sugar), 2 g fat, 1 g saturated fat, 5 mg cholesterol, 3 g fiber, 20 mg sodium
Recipe Credit: Reprinted from The Biggest Loser Dessert Cookbook by Devin Alexander © 2010 by Universal Studios Licensing LLLP. The Biggest Loser (TM) and NBC Studios, Inc., and Reveille LLC. Permission granted by Rodale, Inc., Emmaus, PA 18098. Available wherever books are sold. www.devinalexander.com
Photo Credit: Mitch Mandel
Summary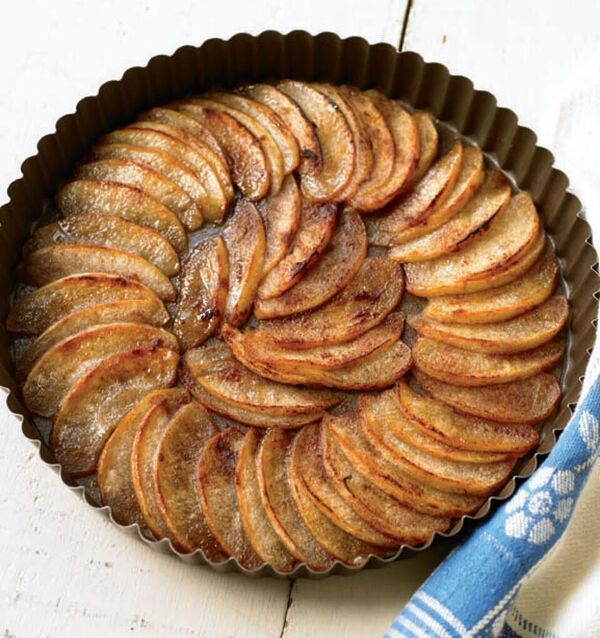 Recipe Name
Author Name
Published On