No-Bake Pumpkin Cheesecake with Candied Pecans
The pumpkin craze has clearly kicked into high gear with pumpkin spiced lattes and pumpkin scones aplenty. I say embrace the trend!…in a Devinly manner 🙂 These adorable no-bake pumpkin cheesecakes have 110 calories and 4.5g of fat (while a popular pumpkin scone has a whopping 460 calories and 21g of fat!!) Satisfy your pumpkin craving – in style and guilt-free – with this recipe that includes new Truvia Nectar (have you seen it yet?)
Ingredients
Pumpkin Cheesecakes
2 graham crackers preferably natural ones, crushed into crumbs
8 oz Greek Cream Cheese (or light cream cheese), room temperature
1 cup canned pumpkin puree
2 tbsp Truvia Nectar
1 tsp pure vanilla extract
1/2 tsp pumpkin pie spice
1/2 tsp ground cinnamon
2 cups light, preferably natural frozen whipped topping thawed + extra for garnish, if desired
Truvia Candied Pecans
1 tsp melted unsalted butter
1 tsp Truvia Baking Blend
1/16 tsp pure vanilla extract
1/4 cup chopped pecans
Instructions
Pumpkin Cheesecakes
Divide the graham cracker crumbs evenly among 12 (4-ounce) oversize shot glasses (or other ½-cup capacity dessert miniatures), about ½ tablespoon crumbs in each. Set them aside.
Using an electric mixer (hand or stand) fitted with beaters, beat the cream cheese until it is smooth (it's important that it is completely smooth at this stage). Add the pumpkin, Truvia Nectar, 1 teaspoon vanilla extract, pumpkin pie spice and cinnamon. Beat on low speed until smooth, using a spatula to scrape down the bowl intermittently as needed. Gently stir in 2 cups of the whipped topping. Divide the mixture evenly among the shot glasses (pipe it or just fill it) about 1/3 cup in each. Cover them with plastic wrap and refrigerate them for at least 3 hours or until set.
When the cheesecakes are set, divide the pecans among them, about 1 teaspoon on each. Top each with a dallop of whipped topping, if desired. Serve immediately.
Truvia Candied Pecans
Mix the butter, Truvia Baking Blend, and vanilla
Place a small nonstick frying pan over medium heat. Add the pecans. Toast them, stirring them occasionally until aromatic and dark brown in color. Turn off the heat and stir in butter mixture. Transfer them to parchment in a single layer to cool.
Makes 12 cheesecakes
Each cake has: 110 calories, 3 g protein, 11 carbohydrates, 6 g sugars, 4.5 g fat, 2.5 g saturated fat, 0 trans fat, 5 mg cholesterol, 1 g fiber, 120 mg sodium
Candied Pecans: 20 calories, 0 g protein, 1 carbohydrate, 0 g sugars, 2 g fat, 0 g saturated fat, 0 g trans fat, 0 mg cholesterol, 0 g fiber, 0 mg sodium
Summary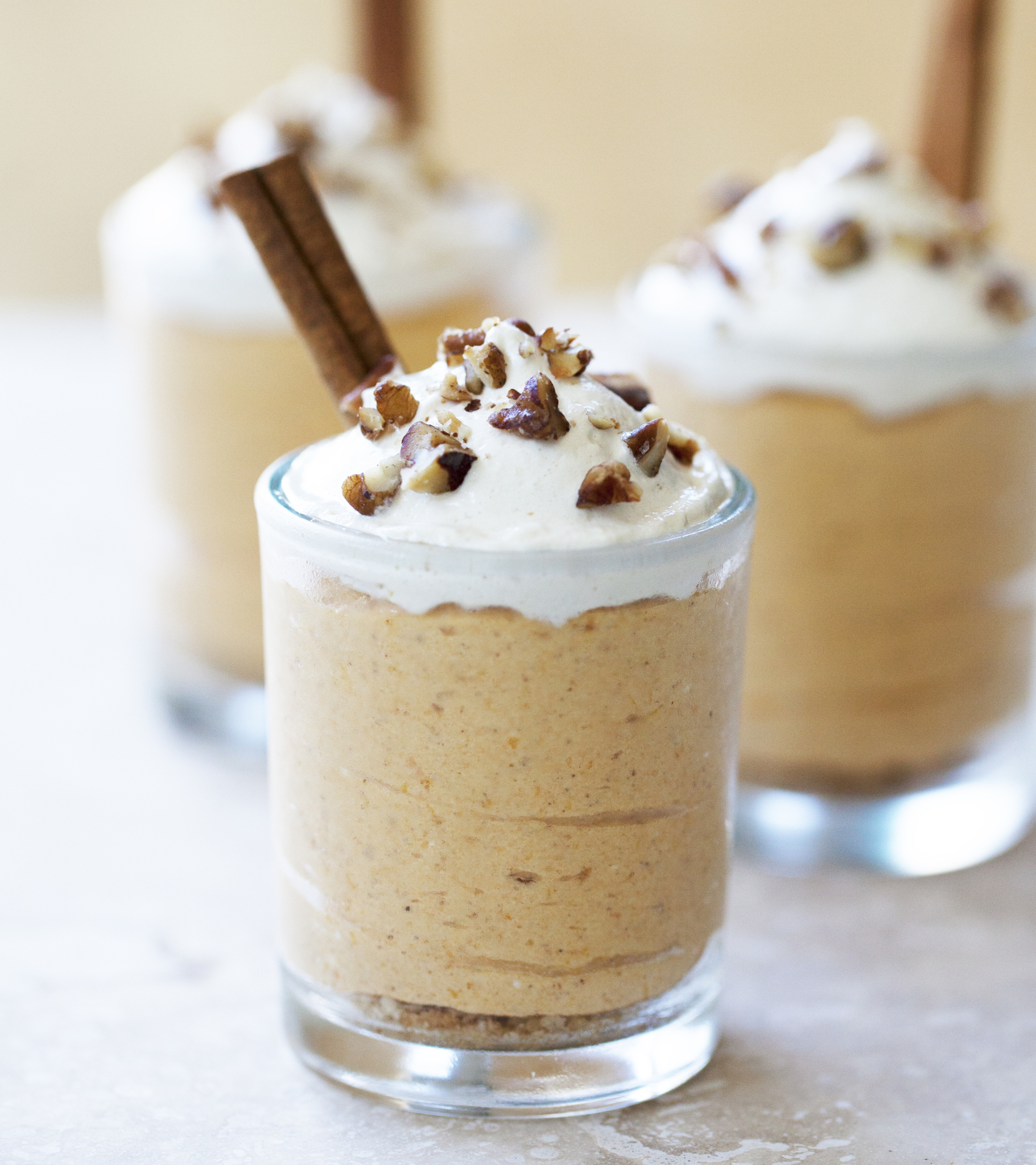 Recipe Name
No-Bake Pumpkin Cheesecake with Candied Pecans
Author Name
Published On