I admit it.  I knew relatively NOTHING about being a mom when "Jelly Bean" was miraculously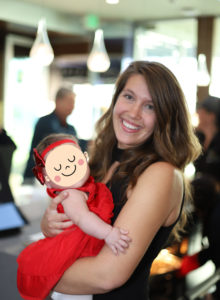 placed in my arms with about 3 hours notice!  I was certain that I had TONS of love to give her…and I knew I would do EVERYTHING on earth I possibly could to give her an amazing life!
Since I didn't have time to read every book under the sun on being a mom (and so much of the info. conflicts anyway), I started my hunt for a "nanny" as soon as I was approved to be a foster mom. With my busy life I knew I still wouldn't have time for researching parenting philosophies if I wanted to spend most of my free time with "Jelly Bean". I needed someone who was knowledgeable enough that who could care for me and answer any questions as they popped up.
After piles interviews I found my "Team Careleader",  Kathryn and hired her a month before Jelly Bean even arrived (could have been longer) since she helps in the office some too so we'd know each other and have a great working relationship and trust (the last thing I wanted was to potentially feel overwhelmed as a new mom and hire the "wrong" person out of desperation). Kathryn is a Postpartum Doula and early childhood educator with a masters in Montessori education for infants and toddlers.  I call her the "Careleader" because she cares for me (making sure I'm not making common mommy-mistakes I would otherwise inevitably make (!!!) and she cares for Jelly Bean while I'm focusing on work or travelling.   Jelly bean and I are learning SO MUCH from her.  And I credit Jelly Bean being super strong for her age to Kathryn's practices of having her lay on blankets and mats that we have in all the rooms I spend time in (instead of having "Jelly Bean" "constricted" in bouncers or swings all the time.  I wanted to pass on some of what we have been learning and loving in case new moms (or grandmothers) might be helped by her expertise that has "saved" me.