Skinny-Mini Cherry-Topped Cheesecakes
This was going to be a recipe for mini-lemon cheesecakes. But when I was making them, my friend Chris popped by and saw the box of vanilla wafers and the cream cheese and said, "No way. Are you making those cherry cheesecakes? My mom used to make them." Then I remembered that my mom used to make them, too, and that so many people served them at their summer picnics. Not ten minutes later, I got a call from my publicist, Mary. I mentioned them to her, and she had just had one the day before. She imme¬diately said, "You have to make over that recipe." So here it is. If you've never had them and you like cherry pie filling, you're in for a treat. Please note that when they come out of the oven, the cheesecakes will puff up and there will be tons of cracks in them. This is okay. Once they cool and you put the cherries on top, they will look perfect.
Ingredients
Butter-flavored cooking spray
10 reduced-fat vanilla wafers
12 ounces fat-free cream cheese, room temperature
1/3 cup sugar
2 tablespoons fat-free, artificially sweetened vanilla yogurt
1-1/2 teaspoons vanilla extract
1 teaspoon unbleached all-purpose flour
2 large egg whites
10 tablespoons cherry pie filling
Instructions
Preheat the oven to 300°F.
Line 10 cups of a standard muffin tin with cupcake liners. Lightly mist them with spray. Place one vanilla wafer, flat side down, in the center of each cup (they will be slightly smaller than the diameter of the cup).
Use an electric mixer fitted with beaters to beat the cream cheese and sugar in a medium mixing bowl until well combined. Add the yogurt, vanilla, and flour and mix on low until just combined (do not overmix).
Use an electric mixer fitted with a whisk to beat the egg whites in a small mixing bowl on high speed until soft peaks form. Use a spatula to gently fold the egg mixture in two additions into the cream cheese mixture until just combined.
Divide the mixture among the muffin cups. Bake for 18 to 20 minutes, or until set (they will puff up and the tops will crack, but this is okay). Transfer the pan to a cooling rack and cool to room temperature, and then refrigerate for at least 5 hours or overnight.
Top each cake with 1 tablespoon cherry pie filling. Serve immediately, or refrigerate.
Makes 10 cheesecakes; 10 servings
Each 1-Decadent-Disk serving (1 cheesecake) has: 99 calories, 6 g protein, 17 g carbohydrates, 1 g fat, trace saturated fat, 3 mg cholesterol, trace fiber, 215 mg sodium
You save: 41 calories, 7 g fat, 5 g saturated fat
Traditional serving: 140 calories, 4 g protein, 16 g carbohydrates, 8 g fat, 5 g saturated fat, 38 mg cholesterol, trace fiber, 300 mg sodium
Recipe taken from Devin Alexander's THE MOST DECADENT DIET EVER! Copyright © 2008 by Devin Alexander published by Broadway Books, a division of Random House Inc.
www.devinalexander.com
Photo Credit: Theresa Raffetto
Summary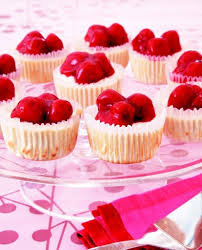 Recipe Name
Skinny-Mini Cherry-Topped Cheesecakes
Author Name
Published On