Spinach Salad with Warm Bacon Dressing
I find it fascinating that I can make a Chocolate Not-Only-in-Your-Dreams Cake and other rich, decadent, insanely chocolaty desserts with only 1 or 2 grams of fat, but can rarely make over an entrée-sized salad for less than 10. Oddly, this is one case where even though this recipe sounds insanely fattening, I can.
A large serving of this salad has so few fat grams and calories it shocks me, so I eat it often. And so I never get tired of it, I often add grilled chicken, egg whites, shrimp, and/or red onion. You can add 31/2 ounces of grilled shrimp or chicken (see Basic Grilled Chicken, page 61) for only about another 100 calories, or a hard¬boiled egg white for only 17 calories, and turn it into a great entrée. Or add a few dried tart cherries or a touch of reduced-fat blue cheese to make it extra-special. To take it to lunch, simply pack the dressing separately and reheat it in the microwave at work just before tossing and eating. You'll be the envy of your co¬workers.
Salad Ingredients
3 cups loosely packed baby spinach leaves
1/2 cup sliced button mushrooms
2 tablespoons Warm Bacon Dressing (recipe follows), reheated if necessary
Dressing Ingredients
1 tablespoon Dijon mustard
11/2 tablespoons honey
2 teaspoons unbleached all-purpose flour
1/4 cup fat-free, lower-sodium chicken broth
2 tablespoons cider vinegar
3 slices center-cut bacon, finely chopped
1 garlic clove, minced
2 tablespoons minced shallots
Black pepper
Salad Instructions
Combine the spinach and mushrooms in a medium bowl. Add the Warm Bacon Dressing and toss until combined. Serve immediately.
Dressing Instructions
Whisk the mustard, honey, and flour in a small mixing bowl. When smooth, slowly whisk in the chicken broth, then the vinegar.
Place a small nonstick saucepan over medium-high heat. Put in the bacon and cook, stirring frequently, until crisp, 4 to 6 minutes. Stir in the garlic and shallots and reduce the heat to medium. Cook for about 30 seconds, or until fragrant. Whisk in the mustard mixture and reduce until thickened slightly, stirring frequently, 1 to 2 minutes. Season with pepper to taste. The dressing can be made up to 5 days in advance and refrigerated in an airtight container, then reheated before use.
Dressing makes about 9 tablespoons
Each tablespoon has: 35 calories, <1 g protein, 4 g carbohydrates, 2 g fat, <1 g saturated fat, 4 mg cholesterol, trace fiber, 79 mg sodium
MAKES 1 SALAD; 1 SERVING
Each serving (1 salad) has: 108 calories, 4 g protein, 16 g carbohydrates, 4 g fat, 2 g saturated fat, 7 mg cholesterol, 4 g fiber, 275 mg sodium
Summary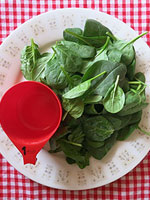 Recipe Name
Spinach Salad with Warm Bacon Dressing
Author Name
Published On