Better Than Classic Stuffed Shells
Over the years, I've heard so many people say that fat-free ricotta cheese doesn't taste good. Although I agree that many dishes made with it do not, this is definitely not one of them. In fact, this is one of the dishes I serve to friends who claim they would never eat lower-fat food, because it fools them every time. When the fat-free ricotta is combined with the other ingredients, you'd never ever guess that this was made with lower-fat anything. It's the perfect dish for entertaining—and I know. I've served it time and time again.
Ingredients
12 dried jumbo pasta shells
1 cup fat-free ricotta cheese
4 ounces (about 1-1/4 cups) finely shredded low-fat mozzarella
3 tablespoons grated reduced-fat Parmesan, divided
1 egg white
1/2 teaspoon finely chopped fresh parsley
1/4 teaspoon garlic powder
Salt and pepper
2 cups Mostly Mom's Marinara Sauce or other low-fat, low-sodium marinara sauce (see Mostly Mom's Marinara Sauce)
Instructions
1. Preheat the oven to 350°F. Cook the pasta according to package directions, cooking it only al dente. Drain and reserve.
2. Place a sheet of wax paper large enough to hold 12 filled shells on a flat work surface. In a medium bowl, mix the ricotta, mozzarella, 2 tablespoons parmesan, egg white, parsley, and garlic powder in a medium bowl. Season with salt and pepper to taste.
3. Place the cooked shells, open side up, on the wax paper. Spoon the ricotta mixture evenly among them, about 2 heaping table¬spoons in each. Evenly spread about 1/2 cup marinara sauce in a 10-inch round or an 11 X 7-inch ovenproof glass baking dish or a casserole dish large enough to hold the stuffed shells in a single layer. Lay the stuffed shells side by side, open side up, in the dish. Spoon the remaining sauce over the top. Then sprinkle remaining parmesan evenly over the marinara sauce. Cover with foil and bake the shells for 20 to 25 minutes. Let stand for 5 minutes before serving.
MAKES 12 SHELLS; 4 SERVINGS
Each serving (3 shells) has: 296 calories, 20 g protein, 43 g carbohydrates, 5 g fat, 1 g saturated fat, 26 mg cholesterol, 5 g fiber, 615 mg sodium
Summary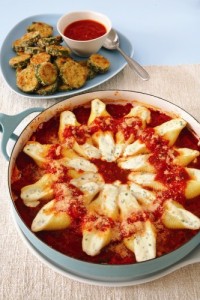 Recipe Name
Better Than Classic Stuffed Shells
Author Name
Published On