Mango Strawberry Breakfast Sundae
This is one of those dishes that you may take one bite and think is a bit bizarre—but then will keep eating anyway. Without fail, the bowl will get emptied. In the summer months, it's particularly great to start the day with this cool, refreshing treat.
Ingredients
1 cup unsweetened frozen strawberries
1⁄2 cup chopped mango
1⁄4 cup orange juice (preferably fresh squeezed)
4 ice cubes
1⁄2 teaspoon honey (optional)
1⁄4 cup crunchy, high-fiber, low-sugar cereal (such as Grape-Nuts)
Instructions
1.In a blender, combine the strawberries, mango, juice, and ice. On high speed, blend until the mixture is almost smooth with a consistency somewhere between a slush and a sorbet. Pour into a cereal bowl or tall glass. Stir in the honey, if desired. Top with the cereal. Serve immediately.
Makes 1 serving
Per serving: 238 calories, 5 g protein, 58 g carbohydrates, 1 g fat (trace saturated), 0 mg cholesterol, 7 g fiber, 182 mg sodium
Summary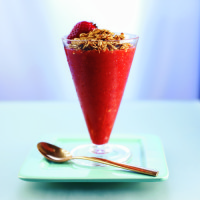 Recipe Name
Mango Strawberry Breakfast Sundae
Author Name
Published On