Indian Chicken Salad Pockets
I'm a big fan of mixing low-fat mayonnaise with stronger flavors to give it the richness of a full-fat mayonnaise. Here, I've coupled low-fat mayo with curry paste, which is found in the international foods aisle in most major grocery stores. Just be sure you don't go crazy with these pastes in other dishes—most are insanely full of fat and sodium. But they also have very strong flavor, so in a dish like this—where 1⁄2 teaspoon does it—I absolutely love them and I suspect you will, too.
Ingredients
1-1⁄2 tablespoons low-fat mayonnaise
1 teaspoon lime juice, preferably fresh squeezed
1⁄2 teaspoon curry paste
3⁄4 cup (4 ounces) chopped grilled chicken breast
1-1⁄2 tablespoons seeded, chopped cucumber
1-1⁄2 tablespoons chopped red onion
1 whole-wheat pita (6-1⁄2″ diameter), cut in half
2 leaves green leaf lettuce
Instructions
In a medium bowl, combine the mayonnaise, lime juice, and curry paste. Whisk to blend. Add the chicken, cucumber, and onion. Mix well.
Spoon the mixture evenly into the pita halves. Add the lettuce. Serve immediately.
Makes 2 servings
Per serving: 186 calories, 20 g protein, 16 g carbohydrates, 5 g fat (1 g saturated), 48 mg cholesterol, 2 g fiber, 304 mg sodium
Reprinted from THE BIGGEST LOSER COOKBOOK by Chef Devin Alexander and The Biggest Loser Experts and Cast. © 2006 by Universal Studios Licensing LLLP, The Biggest Loser and NBC Studios, Inc., and Reveille LLC. Permission granted by Rodale, Inc., Emmaus, PA 18098.
devinalexander.com
Photo Credit: Mitch Mandel
By Devin Alexander
Summary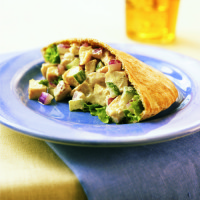 Recipe Name
Indian Chicken Salad Pockets
Author Name
Published On