Pumped-Up Pumpkin Pie Bites
These delicious little bites are real crowd-pleasers and are the perfect size for individual servings at a buffet table (instead of asking your guests to cut their own wedge of pie!).
Ingredients
Butter-flavored cooking spray
3/4 cup whole grain, crunchy, high-fiber, low-sugar cereal (I used Kashi 7 Whole Grain Nuggets)
2 tablespoons 100% pure maple syrup
1/4 teaspoon ground cinnamon
8 large egg whites
1 can (15 ounces) solid pumpkin puree
3/4 cup agave nectar
2 tablespoons whole wheat pastry flour
2 1/2 teaspoons vanilla extract
1-1/4 teaspoons pumpkin pie spice
1/2 teaspoon baking powder
1/4 teaspoon salt
2/3 cup "Cut the Crap" Whipped Topping (click here for recipe), optional
Instructions
Preheat the oven to 350°F. Lightly mist an 11″ x 7″ glass or ceramic baking dish with spray.
Add the cereal to the bowl of a food processor fitted with a chopping blade. Process it for 15 to 20 seconds, or until the cereal is crushed. Transfer it to a small mixing bowl and add the maple syrup and cinnamon. Mix them until well combined. Spoon the mixture into the prepared baking dish. Gently press down on the cereal mixture, spreading it evenly across the bottom of the baking dish. Bake for 7 to 9 minutes, or until slightly browned. Set aside.
Meanwhile, add the egg whites to a large mixing bowl. Using a sturdy whisk, lightly beat them until they bubble very slightly. Still using the whisk, stir in the pumpkin, agave, and flour until well combined. Stir in the vanilla, pumpkin pie spice, baking powder, and salt and continue mixing until well combined. Pour the filling over the baked crust. Using a rubber spatula, spread it into an even layer.
Bake for 40 to 45 minutes, or until a toothpick inserted in the center comes out dry (a few crumbs are okay). Transfer the dish to a wire cooking rack, allowing it to cool to room temperature. Carefully cut 32 pumpkin "bites" (3 cuts along the width of the pan, 7 cuts along the length, creating 4 x 8 bites). Just before serving, top each bite with 1 teaspoon whipped topping, if desired. Serve immediately or store in an airtight container in the refrigerator for up to 5 days.
Makes 16 servings (32 bites)
Per serving: 94 calories, 3 g protein, 21 g carbohydrates (15 g sugar), trace fat, trace saturated fat, 0 mg cholesterol, 2 g fiber, 102 mg sodium
Recipe Credit: Reprinted from The Biggest Loser Dessert Cookbook by Devin Alexander © 2010 by Universal Studios Licensing LLLP. The Biggest Loser (TM) and NBC Studios, Inc., and Reveille LLC. Permission granted by Rodale, Inc., Emmaus, PA 18098. Available wherever books are sold.
www.devinalexander.com
Photo Credit: Mitch Mandel
By Devin Alexander
Summary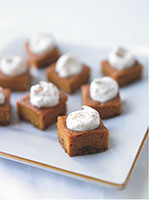 Recipe Name
Pumped-Up Pumpkin Pie Bites
Author Name
Published On