Chocolate Chip Pancakes
Aaah, chocolate for breakfast, what could be more heavenly? On of my downfalls has always been warm chocolate chip cookies. I just love those slightly melty chips! This recipe is my solution to that chocolate chip craving, guilt-free. These pancakes are chock full of chocolate chips, so I actually prefer them without butter. But if you like a more buttery taste with just a hint of chips, use only 1 tablespoon of chips and spread 1 teaspoon of light butter over the top of each pancake. You'll add 17 calories and 2 g of fat per teaspoon. You'll also notice that the recipe calls for very little syrup. Each teaspoon has 17 calories and 0 g of fat. If you love syrup and want to add more, you can. Just try them first and then add only as little as you possibly can to feel that you're eating a truly decadent meal. Being a true chocolate lover, I prefer them exactly as is. If you're harried like most, you can double or triple this recipe with great success. The batter will keep in your refrigerator for up to 3 days, which will save time in the mornings.
Ingredients
1 egg white lightly beaten
1/2 cup low-fat buttermilk
1/2 cup whole-grain oat flour
1/2 tsp baking soda
1/4 tsp vanilla extract
Instructions
Preheat the oven to 200 degrees F.
In a small mixing bowl, whisk together the egg white, buttermilk, flour, baking soda, vanilla, and salt. Stir in the water until well incorporated. Then stir in the chocolate chips and let the batter sit for 10 minutes.
Heat a large nonstick skillet over medium-high heat. When a spritz of water causes the skillet to sizzle, working in batches, and re-spraying the pan between each batch, pour 1/4 cup per pancake of batter onto the skillet. Cook them for about 2 minutes until there are bubbles on the top and the bottom is golden brown. Flip the pancake(s) and cook them about another 2 minutes until they are golden brown on the bottom. Transfer the finished pancake(s) to an oven-proof plate, cover with foil, and keep them warm in the oven until they are all cooked. Serve them immediately with 1 teaspoon of syrup per pancake.
Makes 2 servings.
Each (2 pancake) portion has: 209 calories, 8 g protein, 31 g carbohydrates, 6 g fat, 3 g saturated fat, 5 mg cholesterol, 3 g fiber, 544 mg sodium
You save: 218 calories, 17 g fat, 3 g saturated fat
Traditional serving: 427 calories, 9 g protein, 51 g carbohydrates, 23 g fat, 6 g saturated fat, 117 mg cholesterol, 470 mg sodium
Summary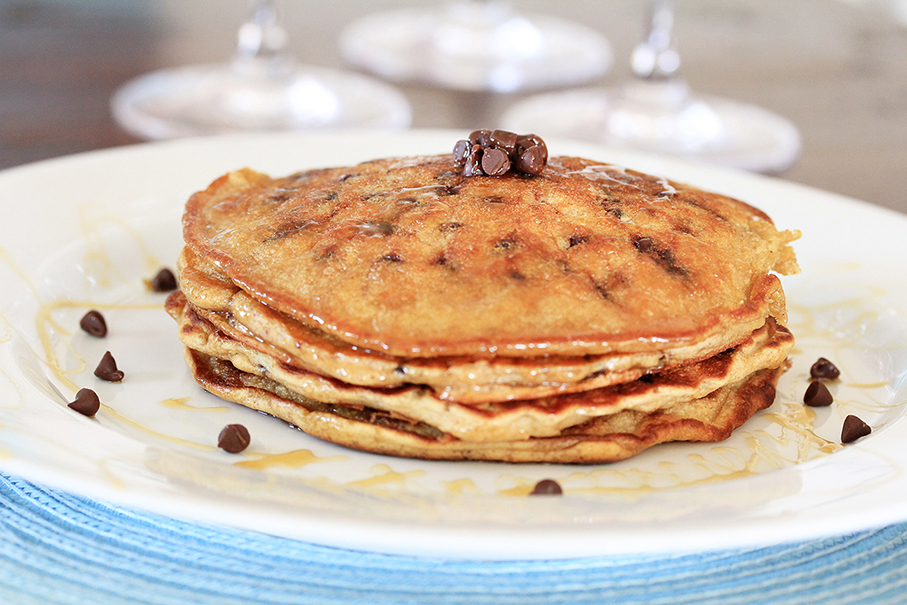 Recipe Name
Author Name
Published On