Cinnamon Sugar Easter Eggs and
Rabbits
Be sure to buy eggroll wrappers—the ones that are bigger than wonton skins to make these triangles. These are an awesome treat for Easter since they're simple and fun and so low in calories. Heck, they're a tiny fraction of the calories you'd consume eating frosted holiday cookies.
Ingredients
1/4 teaspoon ground cinnamon
1 tablespoon + 2 teaspoons raw sugar or coa (I used pink for the rabbits and yellow, pink and purple for the eggs)
2 (7-inch) eggroll wrappers (look for them in the refrigerated section with other international foods at your local grocery store)
1 tablespoon light butter, melted (stick, not tub)
Rabbit and/or Easter Egg Cookie Cutter (any size will work, really)
Instructions
Preheat the oven to 400°F. Line a large nonstick baking sheet with nonstick foil
Stack the eggroll wrappers on a cutting board. Cut as many rabbits and/or eggs as you can from them. Using a pastry brush, very lightly brush one side of one of the rabbits and/or eggs with the melted butter, all the way to the edges. Then, sprinkle the cinnamon then sugar(s) evenly over the butter.
Lay the rabbits and/or eggs side by side on the prepared baking sheet so they do not touch. Bake them for 4 to 7 minutes (note, this time may vary if you use a much bigger or much smaller cookie cutter), or until the rabbits and/or eggs are completely crisp and golden brown. Serve immediately, or allow them to cool and store them in an airtight container for up to 1 week.
Note:
Nutrition varies on this recipe. As a general guideline, if you consume ¼ of the ingredients listed, calories would be: 61 calories, <1 g protein, 11 g carbohydrates, 2 g fat, <1 g saturated fat, 5 mg cholesterol, trace fiber, 54 mg sodium *On camera, I made 8 rabbits and 8 eggs, if you use cookie cutters, like I did that have you consuming most of the ingredients above, each "cookie" averages about 25 calories – but obviously, this is just a guideline.
Recipe adapted from I Can't Believe It's Not Fattening by Devin Alexander. Copyright c 2010 by Devin Alexander. Published by Broadway Books, a division of Random House, Inc. www.devinalexander.com
Summary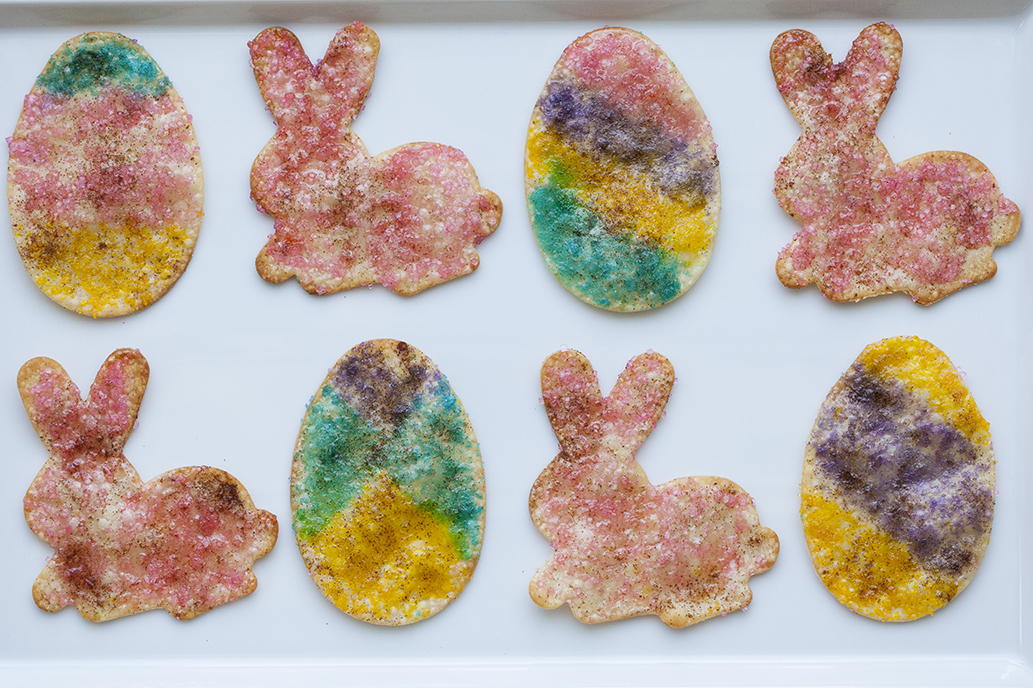 Recipe Name
Cinnamon Sugar Easter Eggs and Rabbits
Author Name
Published On