Ingredients
For the bananas
1 medium banana (just firmly ripe or very slightly under ripe so the slices will hold their shape)
1 tablespoon sugar
1/2 teaspoon fresh-squeezed lemon juice
1/4 teaspoon ground cinnamon
2 teaspoons light unsalted butter
For the French Toast
1/4 cup fat free milk
2 tablespoons egg substitute
½ tablespoon sugar
¼ teaspoon ground cinnamon
1 teaspoon light butter
2 slices whole wheat bread
French Toast with Sauteed Bananas
Instructions
Peel the banana and cut it on a diagonal to form 1/4 inch thick slices. Transfer the slices to a bowl and add the sugar, lemon juice and cinnamon. Toss to coat them evenly.
Place a small, non-stick skillet over medium-high heat. Add the butter. When it bubbles ever so slightly, add the bananas. Cook them, stirring frequently until they are tender and slightly caramelized, about 2-4 minutes. Remove them from the heat and cover them to keep them warm.
Mix the milk, egg substitute, sugar and cinnamon in a large shallow bowl.
Preheat a large non-stick skillet to medium-high heat. Add the butter.
Soak one slice of the bread in the mixture until soft, turning once. Let any excess egg drip off and transfer it to the skillet. Repeat with the second bread slice, placing it side by side in the pan.
Cook them about 1-3 minutes per side, or until golden brown on both sides. Transfer each piece of toast to a plate and top each with half of the banana mixture. Serve immediately.
Makes 2 servings.
Each serving has: 202 calories, 6 g protein, 40 g carbohydrates, 4 g fat, 2 g saturated fat, 8 mg cholesterol, 4 g fiber, 244 mg sodium
Summary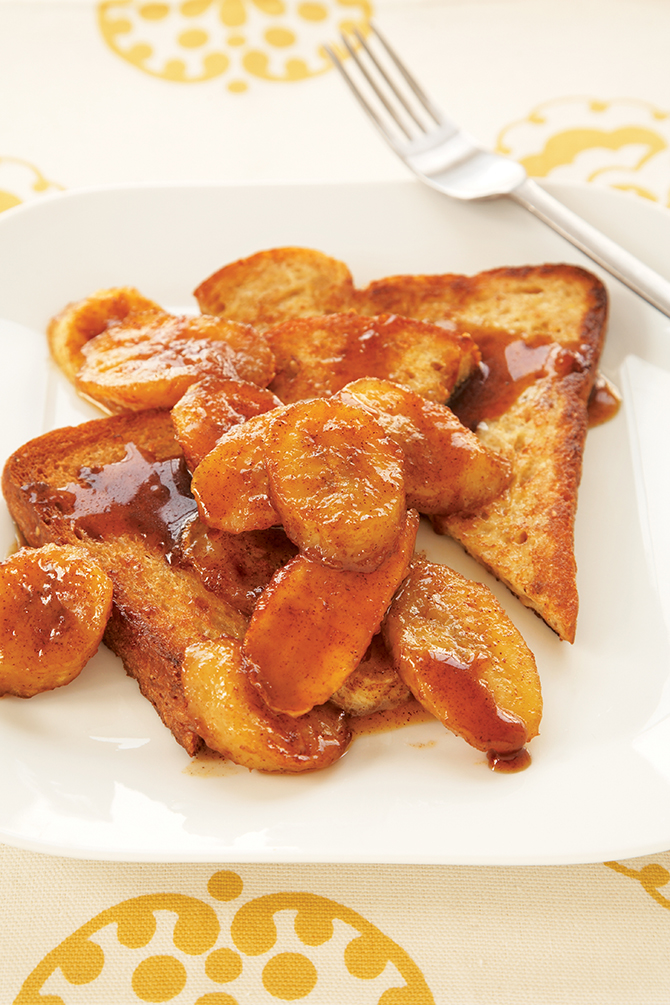 Recipe Name
French Toast with Sauteed Bananas
Author Name
Published On