Ingredients
1 cup garlic flavored hummus
1/2 cup plain non-fat yogurt
1/4 teaspoon ground cumin
1/2 teaspoon finely chopped mint
1-1/3 cups finely chopped, seeded cucumbers
1-1/3 cups finely chopped, seeded Roma tomatos
pinch salt
1 teaspoon fresh-squeezed lemon juice
3 ounces reduced-fat feta cheese, crumbled
2 teaspoons finely chopped parsley leaves
2 tablespoons chopped kalamata olives (about 8 olives)
Mediterranean Layer Dip with Toasted Pita Triangles
Instructions
Spoon the hummus into a 6-cup glass bowl. Using a spatula, spread it evenly to form one layer.
In a small bowl, mix the yogurt with the cumin and mint. Pour the yogurt evenly over the hummus and smooth it with the back of a spoon. Sprinkle the cucumbers evenly over the top.
In a medium bowl, mix together the tomatoes, lemon juice, parsley, salt, and garlic. Sprinkle the tomatoes over the cucumbers followed by the onions, the feta then the olives.
Cover with plastic wrap and refrigerate for at least 1 hour or up to 1 day. Serve with pita triangles for dipping.
Makes about 4-3/4 to 5 cups dip; approximately 18 ¼ cup servings.
With whole wheat pita: each serving ½ pita circle with ¼ cup dip has: 100 calories, 5 g protein, 16 g carbohydrates, 3 g fat, <1 g saturated fat, 2 mg cholesterol, 3 g fiber, 276 mg sodium
Summary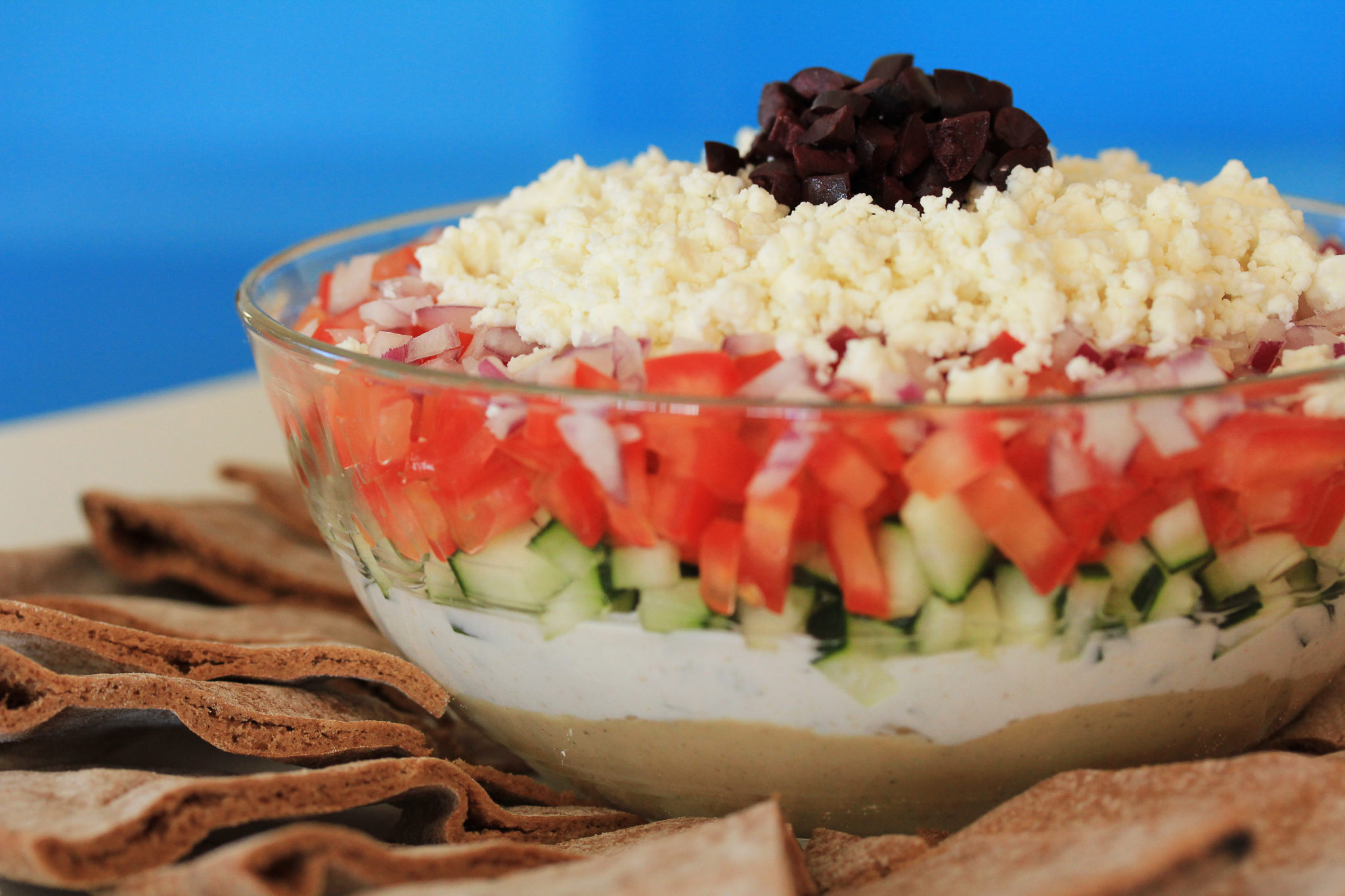 Recipe Name
Mediterranean Layer Dip with Toasted Pita Triangles
Author Name
Published On