Party Chicken Kebabs
Every year, I go out on my friend Chris's boat for the Fourth of July. He always says that he'll supply the boat if I supply the food and the cute girls. No problem: It's not like there's ever a shortage of cute girls in L.A. or a shortage of food around me. I pack up tons of healthy appetizers and picnic-type foods along with these Mediterranean-inspired kebabs. Though we're far from the Mediterranean in California, it never hurts to eat food so good that you feel like you're in the Greek Isles.
Ingredients
1/4 cup freshly squeezed lemon juice
3-1/2 tablespoons freshly minced garlic
2 tablespoons extra-virgin olive oil
2 tablespoons finely chopped fresh rosemary
1-1/2 teaspoons finely chopped fresh sage
1-1/2 tablespoons honey
1-1/2 teaspoons coarsely ground black pepper
3/4 teaspoon salt
1 pound trimmed boneless, skinless chicken breasts, cut into 1-1/2 " cubes
Instructions
In a small bowl, whisk together the lemon juice, garlic, olive oil, rosemary, sage, honey, pepper, and salt. Place the chicken in a resealable plastic container, add the marinade, and toss. Cover and marinate in the refrigerator for at least 6 hours or overnight, turning the chicken
at least once.
Preheat a grill to high. Soak 4 wooden skewers in water for at least 30 minutes (or have metal skewers ready).
Thread the chicken cubes onto the 4 skewers. Place the kebabs on the
grill and reduce the heat to low. Grill for 2 minutes and rotate a quarter-turn. Continue to grill, turning, for 1 to 2 minutes per side, or until the chicken is no longer pink inside and juices run clear.
Makes 4 servings
Per serving: 160 calories, 26 g protein, 4 g carbohydrates, 4 g fat (less than 1 g saturated), 66 mg cholesterol, trace fiber, 220 mg sodium
By Devin Alexander
Summary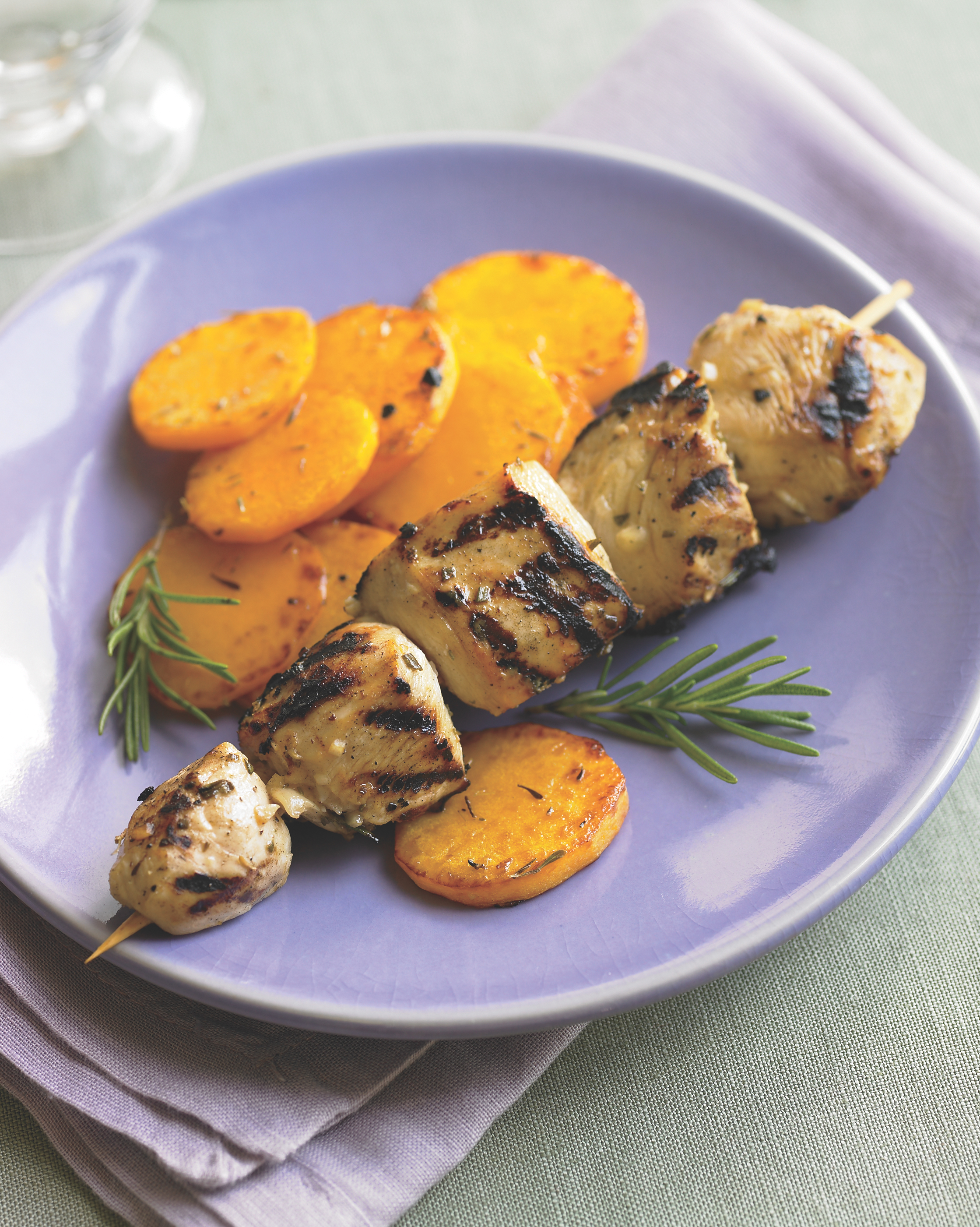 Recipe Name
Author Name
Published On