Sweet & Spicy Pomegranate Pork Tenderloin
Recipe from my new book "You Can Have It!" — Pre-Order Now! Coming March 20th!
Ingredients
1-1/4 pound pork tenderloin, trimmed (1 pound after being trimmed)
1 teaspoon extra virgin olive oil
¼ teaspoon sea salt
Fresh ground black pepper, to taste
1/8 teaspoon garlic powder
1 tablespoon pomegranate molasses
½ tablespoon Truvia Nectar
½ teaspoon dried red pepper flakes
Olive oil spray (preferably propellant free)
Instructions
Pre-heat an oven to 350 F. Line a medium baking sheet with non-stick foil.
Add the molasses, TRUVIA Nectar, and red pepper flakes to a small bowl. Using a small whisk, whisk them together until mixed well. Set aside.
Drizzle the olive oil evenly over the trimmed tenderloin. Using your hands, rub it in until it's completely covered. Then sprinkle the salt, black pepper and garlic evenly over it. If the tenderloin tapers at one end, tuck that end under just enough that it becomes the thickness of the rest of the tenderloin (helps with even cooking).
Heat a large non-stick skillet to medium-high heat. When the pan is hot, add the tenderloin. Cook it until just browned all over, about 1 minute per face. Transfer the tenderloin to the prepared baking sheet. Using a small pastry brush, brush the pomegranate mixture on the top and the sides of the tenderloin. Bake it for 16-20 minutes or until it's barely pink inside. Remove the baking sheet from the oven and tent the pork loosely with aluminum foil for 5-10 minutes. Transfer the tenderloin to a cutting board, reserving any leftover jus (pan juices).
Slice the pork at a diagonal into thin slices. Transfer it to a serving platter or divide the slices among 4 serving plates. Drizzle the remaining jus even over the slices. Serve immediately.
Makes 4 servings.
Each serving has: 155 calories, 3.5 g fat, 1 g saturated fat, 0 g trans fat, 74 mg cholesterol, 5 g carbohydrates, trace fiber, 4 g sugars, 24 g protein, 206 mg sodium, 458 mg potassium, 281 mg phosphorus
Summary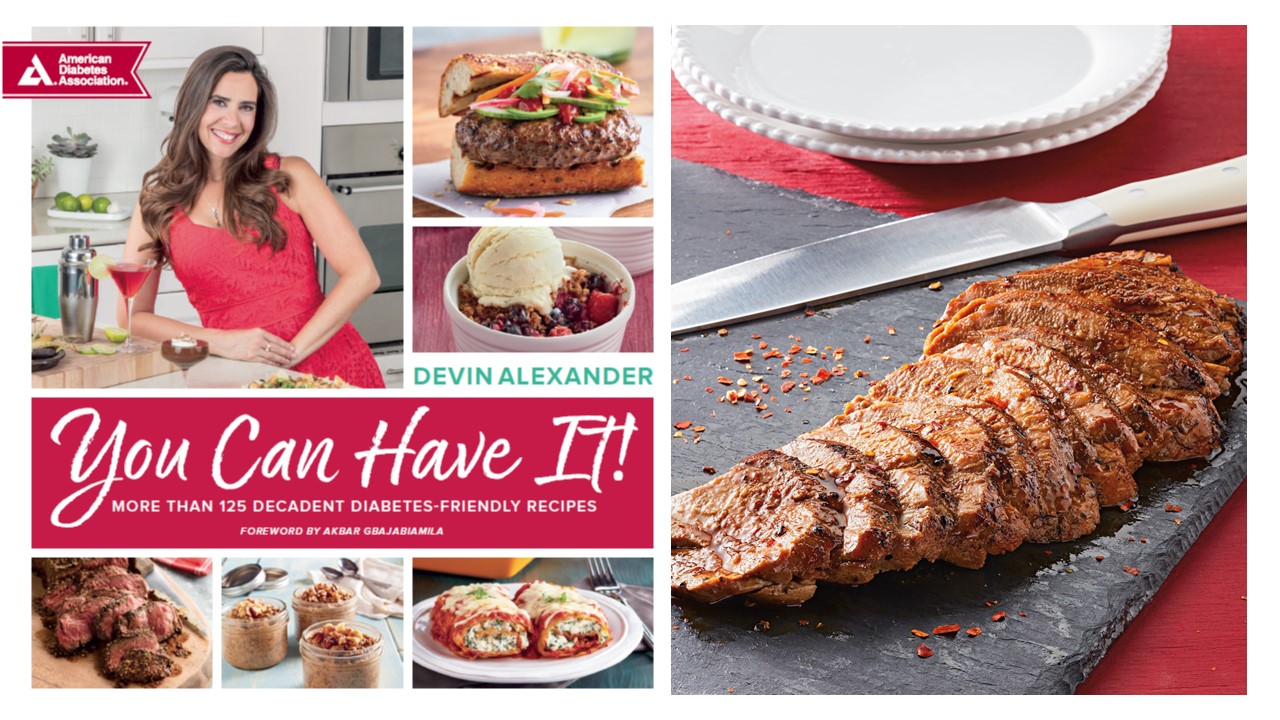 Recipe Name
Sweet and Spicy Pomegranate Pork Tenderloin
Author Name
Published On