Tiny Tacos
These miniaturized versions of tacos are one of my all-time favorite, kid-friendly snacks. When Frito-Lay introduced Baked! Scoops, I was so excited that I instantly went to work on creating dishes to fill these little morsels. I just find them so festive. When I conjured these tacos, I couldn't wait to show them to friends and clients. They're so much fun. Not only can you eat ten of them (how often do you get to eat ten whole anything—outside this book, anyway— when you're eating healthy?) for only 200 calories. Plus the whole family will be excited to dig into your "diet food." And kids will be more than willing to help prepare them.
Ingredients
10 Tostitos Baked! Scoops 1/4 cup finely shredded romaine lettuce 2 tablespoons finely chopped tomatoes 1/2 ounce (about 2-1/2 tablespoons) finely shredded Cabot's 75% Light Cheddar cheese, or your favorite low-fat Cheddar 1 teaspoon lower-sodium taco seasoning
Instructions
Arrange the Scoops side by side on a plate.
Mix the lettuce, tomatoes, and cheese in a medium bowl until well combined. Divide evenly among the Scoops (about 1-1/2 teaspoons per Scoop).
Stir 2 teaspoons water into the taco seasoning in a small bowl until it has no lumps. Set aside.
Preheat a small nonstick skillet over medium-high heat. Put in the beef. Use a wooden spoon to coarsely crumble the meat as it cooks. When the beef is no longer pink, after 1 to 2 minutes, stir in the seasoning mixture. When no liquid remains, after about 1 minute, remove from the heat. Divide the meat evenly among the Scoops, atop the lettuce mixture (about 1 teaspoon in each). Dollop the top of each with taco sauce. Serve immediately.
MAKES 10 TINY TACOS; 1 SERVING OR 2 PORTIONS
Each portion (5 tacos) has: 101 calories, 9 g protein, 9 g carbohydrates, 3 g fat, <1 g saturated fat, 18 mg cholesterol, <1 g fiber, 223 mg sodium
Each serving (10 tacos) has: 202 calories, 17 g protein, 19 g carbohydrates, 6 g fat, 2 g saturated fat, 35 mg cholesterol, 2 g fiber, 446 mg sodium
Summary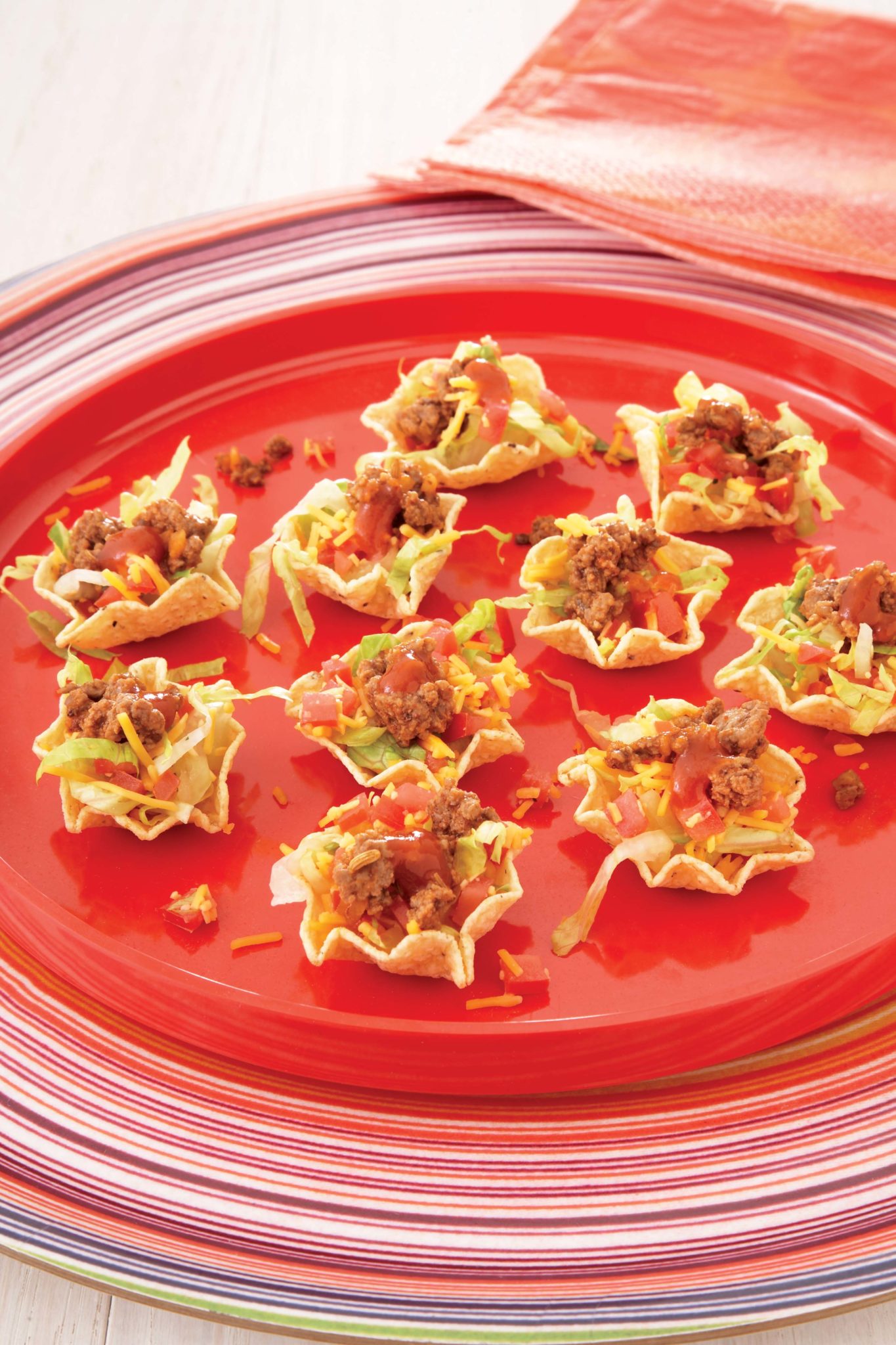 Recipe Name
Author Name
Published On