Bearymelon Cookies
Let's face it, kids (big and small) love cookies. By calling these adorable slices of watermelon "cookies" and decorating them a bit, your kids and their friends are a lot more likely to accept them as an after-school snack. Heck, it's possible word will even get out that you're the cool mom, dad, aunt or uncle on the block, and you'll have kids flocking to your house for these cookies, especially in the summer.
Ingredients
6 small or 3 large 1/2″-thick slices seedless watermelon
6 teaspoon frozen "Cut the Crap" Whipped Topping (click here for recipe)
Instructions
Press a 4″ x 3″ bear-shaped cookie cutter** into the watermelon. If your cookie cutter isn't thick enough, simply press the cookie cutter into the watermelon as far as it will go. Then, using a paring knife, carefully cut around the bear, if it's not completely "free".
Place a very small, round pastry tip in a bag or plastic sandwich bag with a small triangle cut out of one of the bottom corners (if using a plastic bag, be sure that the pastry tip fits very tightly in the hole). Then decorate the "cookie" with the whipped topping by adding ears, a face, a bow tie, hands, and feet, as shown in the photo, or as desired. Repeat with the remaining watermelon and whipped topping. Serve immediately.
Note: Each bear only requires about 1 teaspoon of whipped topping to decorate it as pictured. You might want to have more on hand to make it easy to pipe from your pastry bag.
**You can use any size or shape of cookie cutter. Just note that the nutritional information below is based on a 2 1/2-ounce piece of watermelon.
Makes 6 cookies
Per cookie: 22 calories, trace protein, 6 g carbohydrates (6 g sugar), 0 g fat, 0 g saturated fat, 0 mg cholesterol, trace fiber, trace sodium
Recipe Credit: Reprinted from The Biggest Loser Dessert Cookbook by Devin Alexander © 2010 by Universal Studios Licensing LLLP. The Biggest Loser (TM) and NBC Studios, Inc., and Reveille LLC. Permission granted by Rodale, Inc., Emmaus, PA 18098. Available wherever books are sold. www.devinalexander.com
Photo Credit: Mitch Mandel
Summary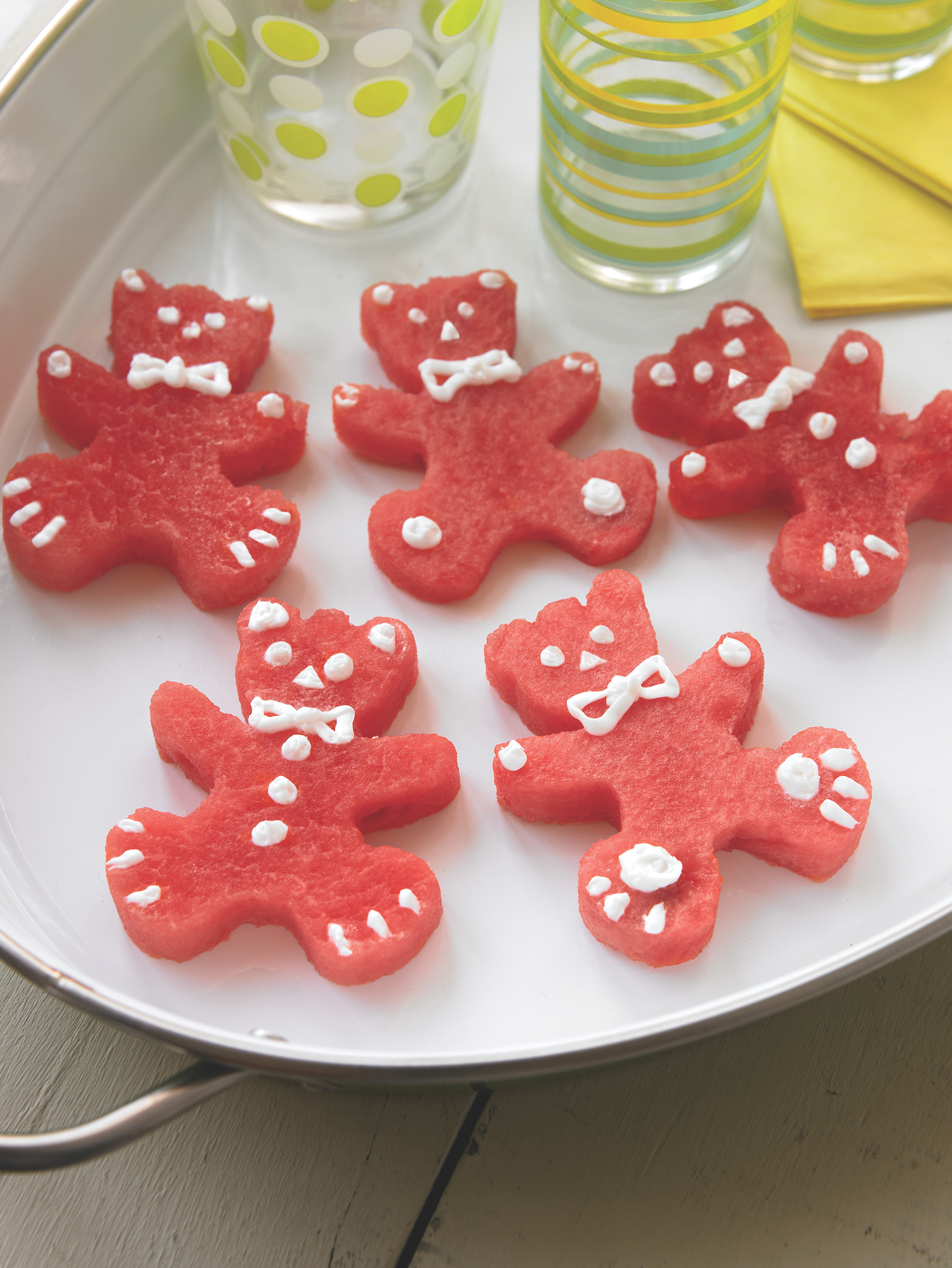 Recipe Name
Author Name
Published On