MEATBALL LOVERS' MUST-HAVE FAMILY-SIZED MEATBALL PARMESAN SUB

This sub is so jam-packed with meatballs, no one will ever guess it came from a healthy cookbook. In fact, it has so many meatballs, it's almost hard to get them all stuffed into the baguette—just the way I love it!
Ingredients
1 (8-ounce) whole wheat or multigrain baguette
New Favorite Meatballs Recipe Here
1-1⁄2 cups Main Event Marinara Sauce Recipe Here
1-1⁄2 tablespoons grated reduced-fat Parmesan cheese
Instructions
1.Preheat the oven to 400°F.
2.Cut a piece of aluminum foil a couple of inches longer than the baguette. Turn the baguette on its side and cut the entire length, not cutting all of the way through, as you would cut a roll to make a sandwich. Wrap the baguette in the foil so it is completely covered. Place the baguette in the oven to warm, about 10 minutes.
3.Meanwhile, in a medium nonstick saucepan over low heat or in a large microwave-safe bowl or dish in the microwave, reheat the meatballs in the sauce until hot.
4.Unwrap the baguette. Open it carefully, being sure not to burn yourself or break apart the 2 halves. Spoon the warmed meatballs and sauce into the baguette. Sprinkle the Parmesan evenly over the meatballs. Cut crosswise into 4 equal sandwiches and serve.
Makes 4 servings
Per serving: 395 calories, 34 g protein, 48 g carbohydrates, 8 g fat (2 g saturated), 63 mg cholesterol, 6 g fiber, 644 mg sodium
Summary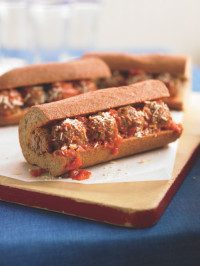 Recipe Name
MEATBALL LOVERS' MUST-HAVE FAMILY-SIZED MEATBALL PARMESAN SUB
Author Name
Published On